Cupar Museum has custody of the casket and scroll given to John C. Duffus when he was awarded the Freedom of Cupar in 1927, the key presented to him on the opening of the Duffus Park in 1911 and the scissors used by his sister Mrs M.M. Gold when she opened the playing field extension to the park in 1951.
These items are of huge significance for Cupar from the days when it was a proud Royal Burgh and the County Town of Fife. They were bought at an auction on the Isle of Man following a tip-off from a well wisher on the island, previously unknown to us, who alerted us to the sale though our website. We are extremely grateful to him and also to Manx Heritage who also contacted us, anxious that artefacts with such obvious significance to a local community should not disappear into a private collection. Their selfless action effectively saved these items for the town of Cupar.
John Duffus was born in Cupar in 1863 and at the age of fifteen was apprenticed to a Dundee jute firm. Six years later he was in India where he established a major baling and shipping business. He returned to the UK after twenty-one years to take charge of the firm's London office, and he also acquired the Garden and Densfield jute factories in Dundee.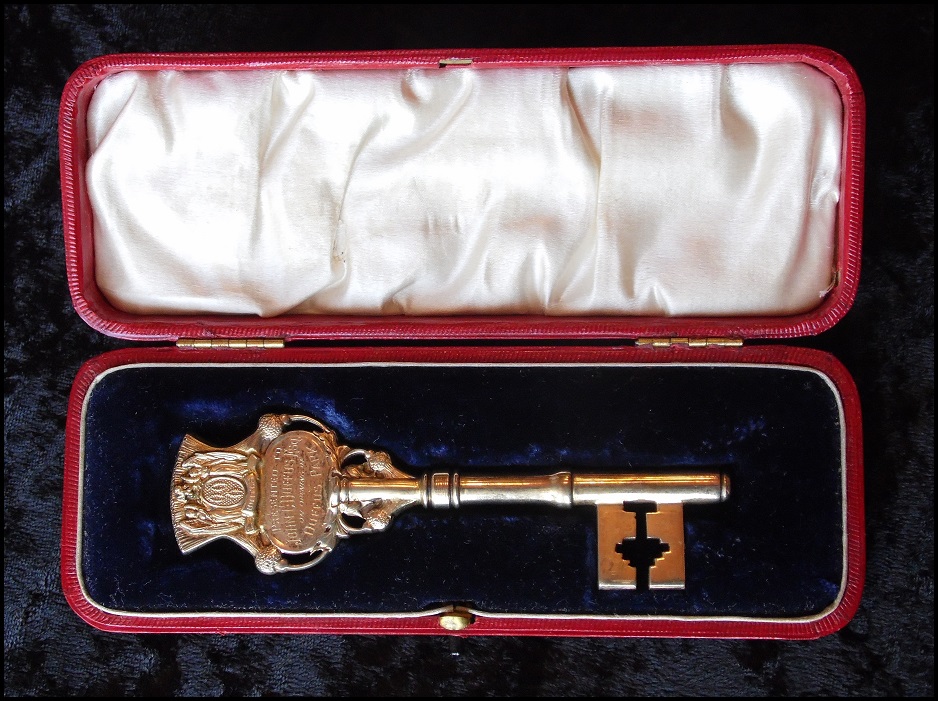 A wealthy man, he purchased Bonvil Park in Cupar in 1911 and presented it, with an endowment to the town. When it was opened as a public park it was renamed Duffus Park. He made further gifts to the town, a record of generosity that was recognised in 1927 when he was awarded the Freedom of the Burgh. He died in 1933.
The Duffus family's civic beneficence was continued by John Duffus' sister, Mrs M. M. Gold who made donations to enhance the park with the bowling green, entrance gates, and to improve the playing fields and to add new ones. In a remarkable double for the family she was also given the Freedom of Cupar in August 1951.
Although two members of the Duffus family were given this honour, it was not awarded to many people, perhaps no more that eight. It is therefore a matter of great significance for the town that Cupar Heritage has managed to repatriate these items.